Aim: Data-driven analysis using large-scale NGS data
Genome-wide analysis using next-generation sequencing (NGS) is a central method in genomics and epigenomics fields. NGS analysis has led to important discoveries for dynamic regulation of the genome and dysregulation in diseases. To understand the cooperative regulation of the genomic functions, we have been implementing computational analysis for various NGS assays including:
ChIP-seq: protein-DNA binding and histone modifications,
DNase-seq and ATAC-seq: open chromatin,
Bisulfite-seq: DNA methylation,
RNA-seq: gene expression,
Exome-seq: gene mutation,
Hi-C (Micro-C): three-dimensional chromatin folding,
ChIA-PET and Hi-ChIP: chromatin looping, and
Single-cell analysis: cellular heterogeneity and cell differentiation trajectory.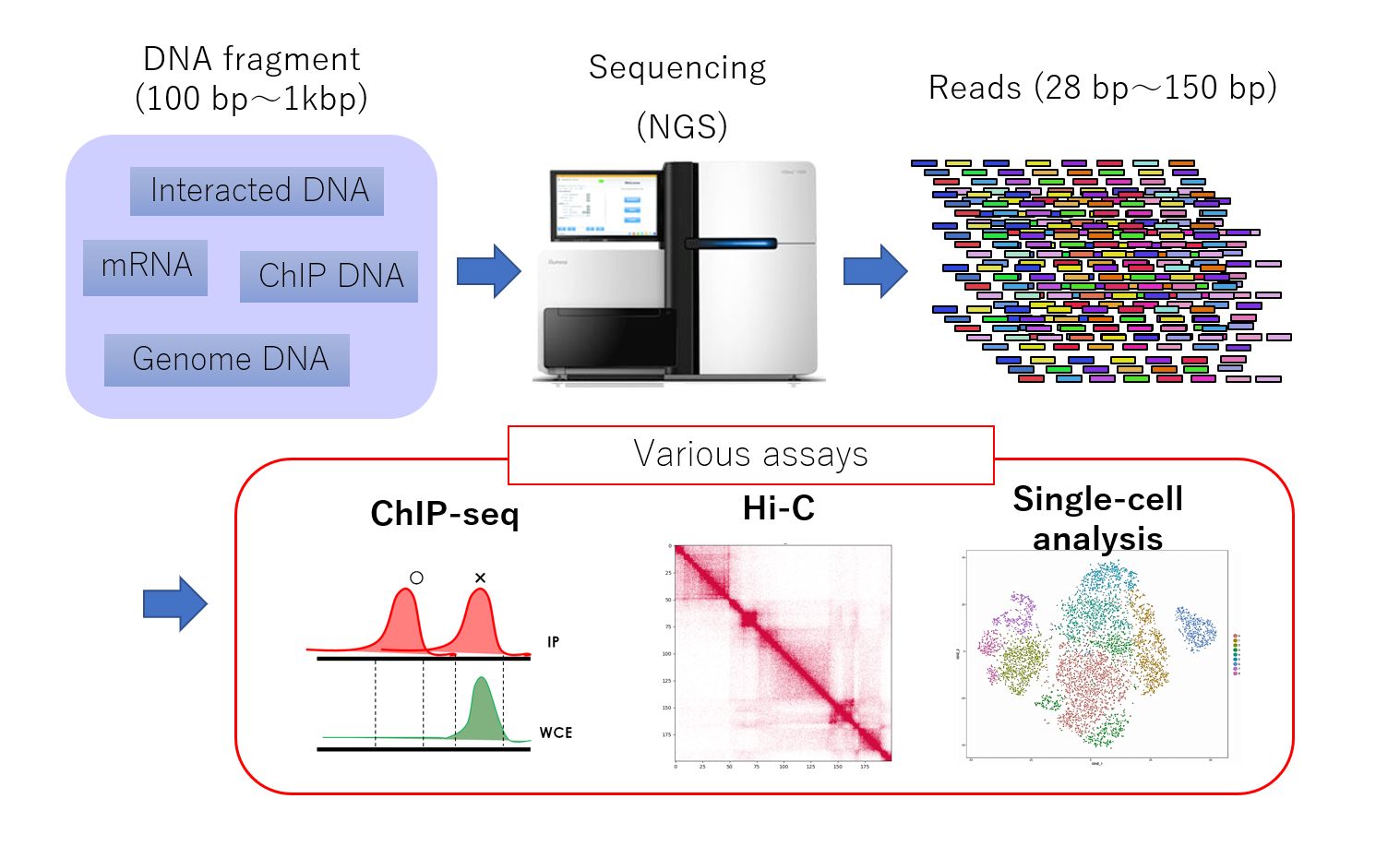 We focus on "data-driven NGS analysis" that achieves a ground-breaking biological discovery from large NGS datasets (~hundreds of samples) without help from existing biological knowledge. We aim to develop a pipeline for multi-NGS omics analysis that integratively analyzes large datasets from multiple NGS assays, and discover higher-order biological information, e.g., interaction variation of multiple DNA-binding factors across tissue types.
The current research themes
Development of integrated analysis method using multiple NGS assays (e.g., epigenome, gene expression and 3D structure)
Whole-genome annotation based on various epigenomic data (e.g. histone modifications) to identify novel functional regulatory regions
Development of methods for detailed analysis of 3D structural data (e.g., Hi-C and Micro-C)
Enhancer-promoter interaction prediction from large-scale epigenomic data
Functional analysis of cohesin and CTCF, essential proteins for the regulation of chromosomal structure and gene transcription
Trajectory analysis using single-cell data to investigate cell fate regulation
Gene networks reconstruction and comparative network analysis using single-cell data